Good morning! I'm so excited that I'm being introduced at Quick Quotes today :) I would love if you stopped over!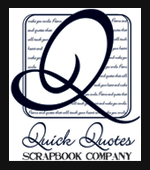 Be sure become a follower of the Quick Quotes blog so you can meet the rest of the new design team (they rock!) and not miss any of the new releases from CHA.
Thank you so much Rhonda for inviting me to the Quick Quotes team! :) I'm so honored to be a part of it.
Have a great day everyone! :)